2021 Video Vault: Panel: Intimate time in the RV when you have kids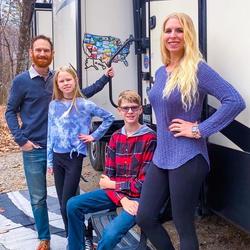 Tune into this talk by Jenn Bethune, Ben and Michelle, Bryanna and Elisabeth, Red, White, and Bethune, Intentional Adventure, Crazy Family Adventure, and The Runaway Parents about Intimate time in the RV when you have kids. Ask your questions live in the chat box and get the answers you need to know!
Many speakers will be joining us live in the chat boxes to answer attendee questions throughout the event, but you can also use this chance to chat with fellow attendees and get their input!
Get your questions ready, tune in live or catch the replay if you have one of our replay passes!
---
Join the discussion
You need to be registered as an attendee in order to comment on this talk.
RegisterRegister
Jenn
We are a family of 5, with 4 dogs,living and traveling in our 1983 Bus
Elisabeth
Lis, her husband Jason and 4 of her 6 kids have been traveling in their RV full time, since 2018. After years of the rat race, they decided to "run away from normal" and reset their life to focus more on each other.
Bryanna
In 2014 Bryanna Royal and her family of 6 hit the road full-time in an RV to explore North America. During this time she has built 2 remote businesses, wrote a book on Full-Time RVing With Kids, and had many epic adventures.
Categories covered
Proudly supported by