2021 Video Vault: Panel: Traditional Homeschooling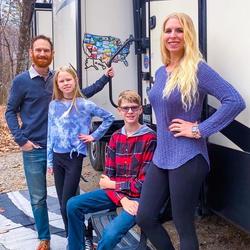 Tune into this talk by Nicole, Ben and Michelle, Kris and Kristi, Fulltime Families, Intentional Adventure, Where Wild Ones Roam, and Way Beyond The Norm about Traditional Homeschooling. Ask your questions live in the chat box and get the answers you need to know!
Many speakers will be joining us live in the chat boxes to answer attendee questions throughout the event, but you can also use this chance to chat with fellow attendees and get their input!
Get your questions ready, tune in live or catch the replay if you have one of our replay passes!
---
Join the discussion
You need to be registered as an attendee in order to comment on this talk.
RegisterRegister
Nicole
Nicole creates virtual and in-person opportunities for Fulltime Families to connect and enjoy community. She loves traveling with her husband and three children and meeting new families on the road.
Kristi
Chiropractor turned homeschool mom, I've expanded my dream of helping others heal to helping my three children thrive in their educational endeavors. My kiddos have never seen the inside of a public school classroom and continue to enjoy being educated way beyond the norm as our family explores the US in our 39' RV.
Kris
As the co-owner of her family's travel brand, Where Wild Ones Roam, and creator of the RV Masterclass, Ready to Roadschool, Kris Murphy knows first-hand how overwhelming it can be to begin a nomadic lifestyle and the struggles that come along with the initial transition from traditional home life to an adventurous road life. Kris will equip you with the information you need to help ease your mind and reduce the overwhelm in order to hit the road with confidence and success!
Categories covered
Proudly supported by