Panel: The Good, The Bad & The Ugly... of full time travel with kids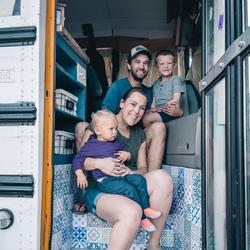 Tune into this talk by Lauren and Nicole and Bo, The Wanderpreneurs, Roam with Bus, and Family of Nomads about the downsides and upsides of full-time travel with kids. Ask your questions live in the chatbox and get the answers you need to know!
Many speakers will be joining us live in the chat boxes to answer attendee questions throughout the event, but you can also use this chance to chat with fellow attendees and get their input!
Get your questions ready, tune in live or catch the replay if you have one of our replay passes!
---
Join the discussion
You need to be registered as an attendee in order to comment on this talk.
RegisterRegister
Jen & Jerome Braga
The Bragas are a family of 4, adventuring full time since December 2014 in their customized 42ft fifth wheel. Their RV boasts a huge kitchen to accommodate all the clean cooking required to live allergy-free. In addition, their professional photography and videography support their lifestyle by creating content specifically for RV industry brands, suppliers, agencies and media.
Sharee
Traveling family of 6, on the road for 9 years now exploring part-time travel.
Lauren
Family of 4 traveling full time in an RV since 2018.
Nicole
Nicole creates virtual and in-person opportunities for Fulltime Families to connect and enjoy community. She loves traveling with her husband and three children and meeting new families on the road.
Nicole & Bo
Family of 4 living and traveling full time in our self converted school bus.
Categories covered
Proudly supported by