Panel: Unschooling & Road Schooling: Non-Tradition Ways to Teach on the Road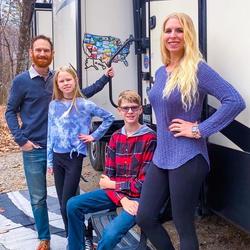 The word "Homeschooling" encompasses a vast world of varying descriptions. Some people are VERY regimented and others simply let the wind determine their plan. Because of this vague description the idea of teaching your kids, when you're not a teacher by trade, scares the black tank out of most people! Fortunately, it doesn't have to be overwhelming! We're excited to share with you what has worked for our family and how we're enjoying the Homeschool journey while traveling fulltime.
---
Join the discussion
You need to be registered as an attendee in order to comment on this talk.
RegisterRegister
Molly Garcia
Family of 5 traveling in their renovated 5th wheel since 2019
Margie & Allen
Fulltime RVing nomads since 2010, now empty nesters after Fulltime Families life with our kids!
Nicole
Nicole creates virtual and in-person opportunities for Fulltime Families to connect and enjoy community. She loves traveling with her husband and three children and meeting new families on the road.
LaNissir James
LaNissir James is a high school consultant with HSLDA. She and her husband, Lorenzo have homeschooled their seven children for many years. They enjoy Road Schooling their children in their RV.
Categories covered
Proudly supported by