Panel:When the Campers Rocking... Don't Come Knocking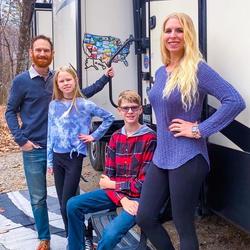 Here's the reality, it can be HARD to have a good sex life when you can hear someone on the other side of the wall sneeze before you get started… Or when someone knocks on your door, or worse, BARGES IN as you finally begin your celebration of adulthood, UGH!! But all that considered, there are plenty of tools, tips and tricks you can use to maintain that healthy "room cleaning" time (or, whatever you call it) and keep your marriage alive without scaring your kids for life, and we're excited to share them with you :)
---
Join the discussion
You need to be registered as an attendee in order to comment on this talk.
RegisterRegister
Cassie Bailey
Family of 6 who went from 3,000 sqft to living in our RV. After almost losing our son we realized how short life truly is and now live more intentionally. Spending more quality time as a family, traveling the country in our 5th wheel.
Jenn
We are a family of 5, with 4 dogs,living and traveling in our 1983 Bus
America & Shalene
RV Family of 4 + 2 dogs living/Work Camping/Traveling the U.S. in a 5th Wheel!
Categories covered
Proudly supported by